Never before released outside of Japan, both The Great Ace Attorney: Adventures and The Great Ace Attorney 2: Resolve follow the escapades of fledgling lawyer Ryunosuke Naruhodo, his trusty legal aide, Susato Mikotoba, the inimitable detective, Herlock Sholmes, young genius Iris Wilson, and a wide variety of weird and wonderful characters.
Ten cases chock full of intriguing mysteries and courtroom mayhem await you, set against the backdrop of 19th century Japan and England.
4 'Greats' of Chronicles

⦁ Great 1
Gorgeous visuals that are even better on a large screen! Gameplay controls and options optimized for each platform! Quality of life features like autosave and accolades!
⦁ Great 2
Over 50 hours of content packed into one title! All 10 episodes of 'The Great Ace Attorney: Adventures' and 'The Great Ace Attorney 2: Resolve' – together and ready for you to tackle!

⦁ Great 3
A series first – an auto-advancing Story Mode for when you just want to watch the drama unfold! Autoplay Mode automatically advances the text for you. Or turn Story Mode on to have the game handle everything, including making choices and puzzle solving. It's perfect for when you get stuck or simply feel like sitting back and watching the drama unfold.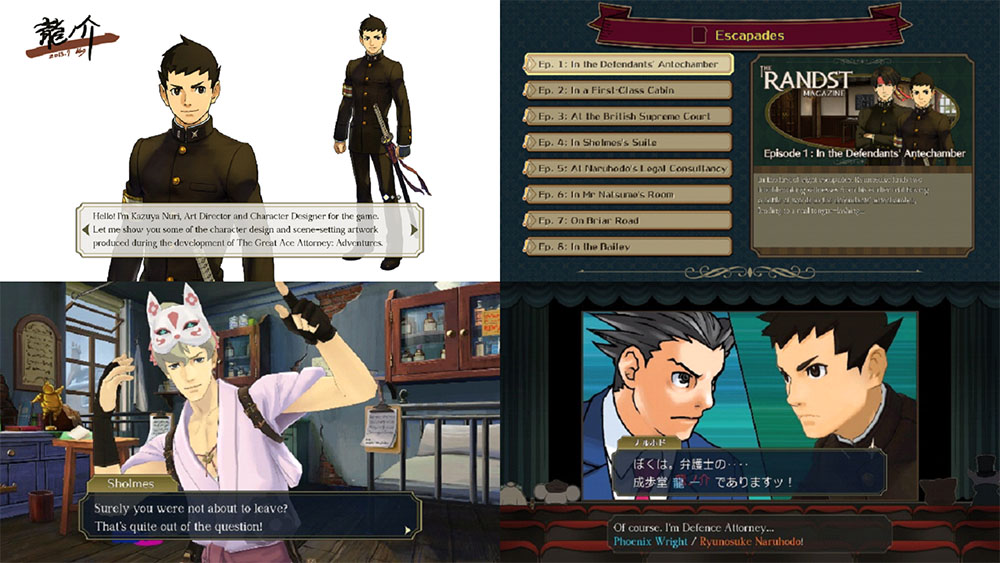 ⦁ Great 4
Special contents galore! Truly immerse yourself in the world of The Great Ace Attorney with art and music galleries featuring creator comments, extra side stories, and special videos!
– Special Exhibitions (Gallery & Auditorium) Character designs, music tracks, and specially voiced lines are available for your enjoyment. Newly commissioned art from series art director Kazuya Nuri included!
– Escapades Eight slice-of-life episodes that portray the daily goings-on behind the scenes of the main game. Written by series director Shu Takumi, these short side stories are sure to satisfy!
– Costumes (Tailor) A set of three costumes for use in 'The Great Ace Attorney 2: Resolve'. Dress Ryunosuke, Susato, and Sholmes in these unique outfits to enjoy the game in a whole new way!
– Special Videos (Moving Pictures) From the original Japanese release of 'Adventures', we present two special videos that were shown exclusively at events and thirteen 'Indictment' and 'Adjudication' videos, where players voted on Ryunosuke's guilt or innocence each evening online and the results were posted the next day.
STORY
⦁ The Great Ace Attorney: Adventures
The Empire of Japan – after opening its doors, a push for cultural transformation brought great waves of Western influence to the Far Eastern island nation. The revolution washed over the land, making life in the capital exciting and unsettling. It was a period of great change, and some were swept away by the tide. But for one man, the turbulence of that era was just the beginning of an extraordinary story.
⦁ The Great Ace Attorney 2: Resolve
The Great Exhibition of London – that grand event that was to be a celebratory last hurrah of the 19th century. But from amongst the glitter and glory of Great Britain's latest achievement, a series of grim crimes began to emerge and come to the fore. From the Empire of Japan to the British Empire, a sweeping tale that straddles the two island nations is about to take centre stage once more.
CHARACTERS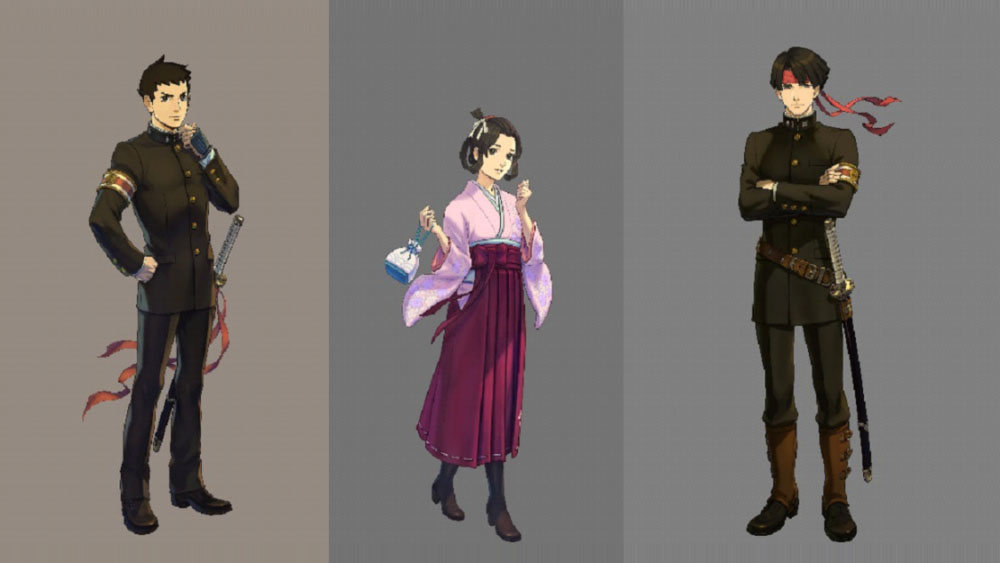 The Ancestral Ace Attorney – Ryunosuke Naruhodo
Phoenix Wright's ancestor and protagonist of this tale, Ryunosuke is a student at the Imperial Yumei University in the Empire of Japan. Although it wasn't his original field of study, his brush with the law set him firmly down the path of an attorney. With a new-found sense of justice, he is travelling to Great Britain in the hopes of learning the latest in legal thought and practice.
Faithful Judicial Assistant – Susato Mikotoba
A learned judicial assistant, Susato is ever ready to help Ryunosuke through any trial. She is a lover of Western detective novels, and is at once a classic Japanese lady of virtue and grace, and a progressive dreamer.
Certified Lawyer and Best Friend – Kazuma Asogi
A fellow student at the Imperial Yumei University, Kazuma is also Ryunosuke's best friend. He is a talented man, having passed certification to practise law, despite still being in school. He dreams of studying in Great Britain and bringing that knowledge back in order to revolutionise the Japanese judicial system.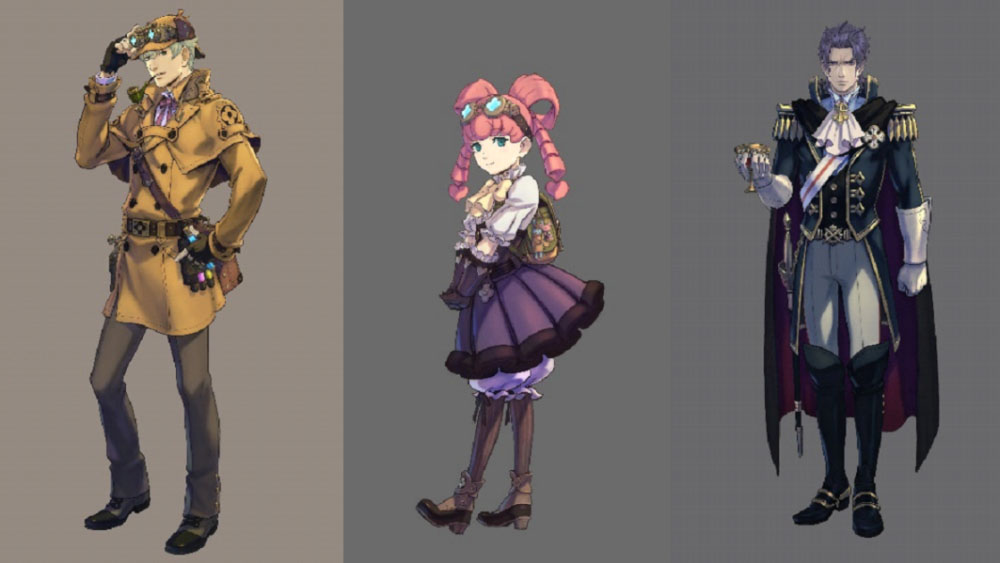 A Most Singular Great Detective – Herlock Sholmes
The world's most famous detective. Sadly, his overly-sharp observations and deductions sometimes cut beyond the heart of the matter to a maddeningly confused conclusion.
Precocious Doctor and Literary Young Lady – Iris Wilson
Herlock Sholmes's young, little flatmate. Her tender age belies her great achievements. Not only does she hold a medical degree, she is also the author of the fabulously popular serial, 'The Adventures of Herlock Sholmes'.
The Grim Reaper of the Old Bailey – Barok van Zieks
A legendary prosecutor known throughout the judicial world as the 'Reaper'. It is said that not a single soul who stands accused before him can escape his 'final judgment'.
GAMEPLAY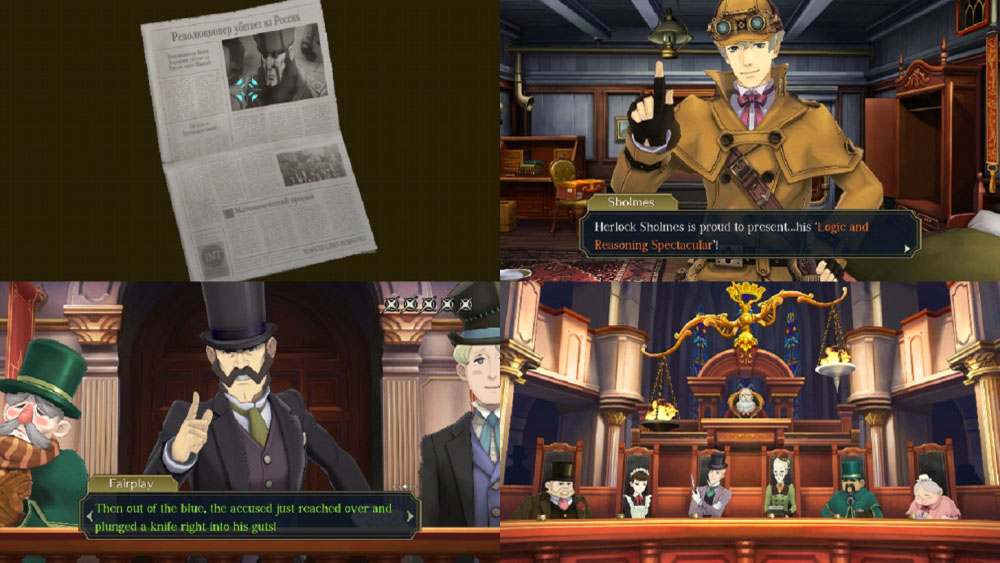 Solve the Case and Bring the Culprit to Justice! Make inquiries, gather evidence, and present your case in court! Break down the prosecution's arguments by resolving inconsistencies to reveal the truth. Turn hopeless situations around to snatch victory from the jaws of defeat!
⦁ Investigation Gather evidence and discover the facts of the case to use in the trial ahead.
⦁ Trial Overturn witness testimonies one by one by pointing out the inconsistencies with your evidence.
⦁ Summation Examination A procedure unique to the courtrooms of London, listen to the findings of the jury and use their words against them. Pit conflicting findings against one another to convince the jurors to let the trial continue!
Language
Play the game in English or Japanese. Mix and match your preferred text and audio languages for the ultimate experience. Immerse yourself in the look and feel of late 19th-century Japan and London with graphical text in their original languages.
Bonus! Art and Music From the Vault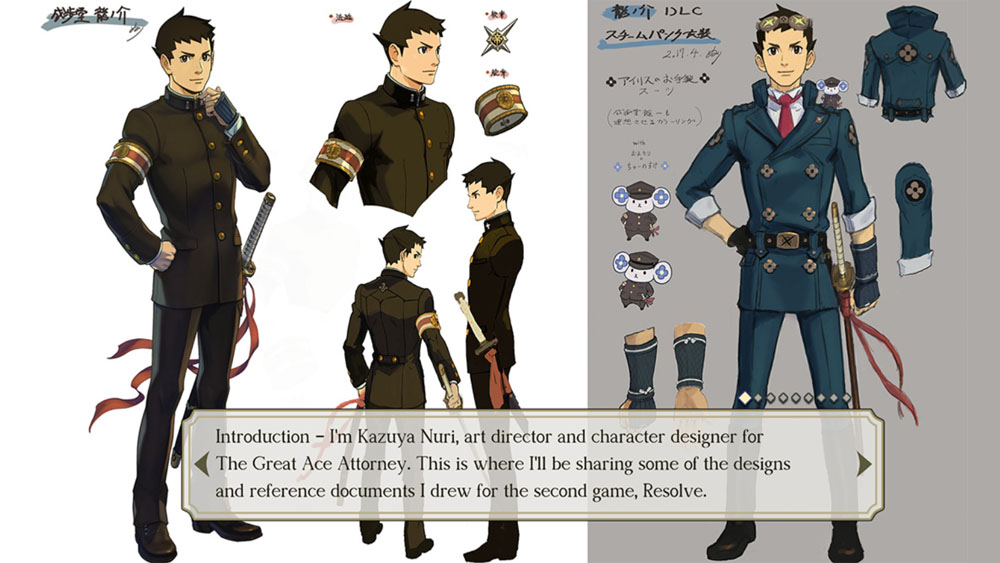 Pre-order to get even more stuffs, including exclusive new pieces and arrangements!
From character design sketches to unused music tracks, obtain 54 additional pieces – viewable anytime in the in-game Special Contents section.
'From the Vaults' Features:
・25 additional pieces of art for the Gallery
・29 additional pieces of music for the Auditorium
The Great Ace Attorney Chronicles comes to Nintendo Switch, PlayStation 4, and Steam on 29th July 2021 for more information please visit the official website