Singapore, 2020 – SCRYsoft and Aquiris Game Studio are pleased to announce that Horizon Chase Turbo Deluxe Edition will be coming to South East Asia for PlayStation 4 on 28 July 2020.
The Deluxe Edition will include Summer Vibes DLC. The retro 16-bit arcade-inspired racing gameplay has received various positive reception from the gaming community.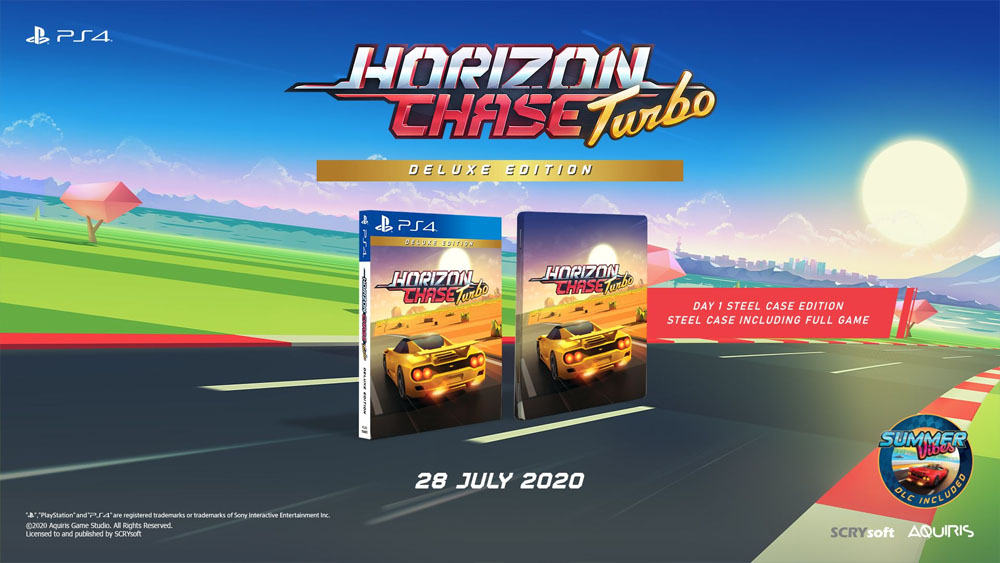 16-BIT CLASSIC & SMOOTH GAMEPLAY
Inspired by the 80s and 90s arcade racing game, Horizon Chase Turbo is a modern take on the classic genre, recreating the 16-bit appeal and putting in modern gameplay elements. 32 amazing cars from classic to modern are waiting to be unlocked. Enjoy the boundless speed of fun in silky smooth 60fps as you vroom vroom across the sphere!
A WOLRD TOUR THROUGH THE HORIZONS
Up to 109 tracks available across 48 locations in 12 countries each with extraordinary settings, be it snowy season, volcanic ashes or severe sandstorms, Horizon Chase Turbo is a day and night race down to the horizons. Players can participate in either World Tour, Tournament and Endurance mode.
OLD BUT GOLD MULTIPLAYER MODE
Horizon Chase Turbo offers a Local Multiplayer Split Screen mode (support up to 4 players) that rescue the nostalgia of playing with your best friends sitting on a couch all night long. But beware not to drift away from the friendship line as you pass through the racing line. If you want to seek for a bigger challenger, participate in the online leaderboard and fight against other from the world.
SOUNDTRACK BY BARRY LEITCH
Horizon Chase Turbo presents Barry Leitch, the musician behind the soundtracks of classic arcade racing games Lotus Turbo Challenge, Top Gear (SNES) and Rush. As you play the game, you'll be hypnotized by his charming tunes that complement the graphical ecstasy of each horizon.
SUMMBER VIBES
Included in this Deluxe Edition is Summer Vibes DLC, where players will be given a classic convertible roadster, with 5 amazing unlockable skins. 12 sunny roads from the main campaign have been redesigned to give you a true summer experience. It is time to feel the breeze coming through while driving along the coast line in the roadster.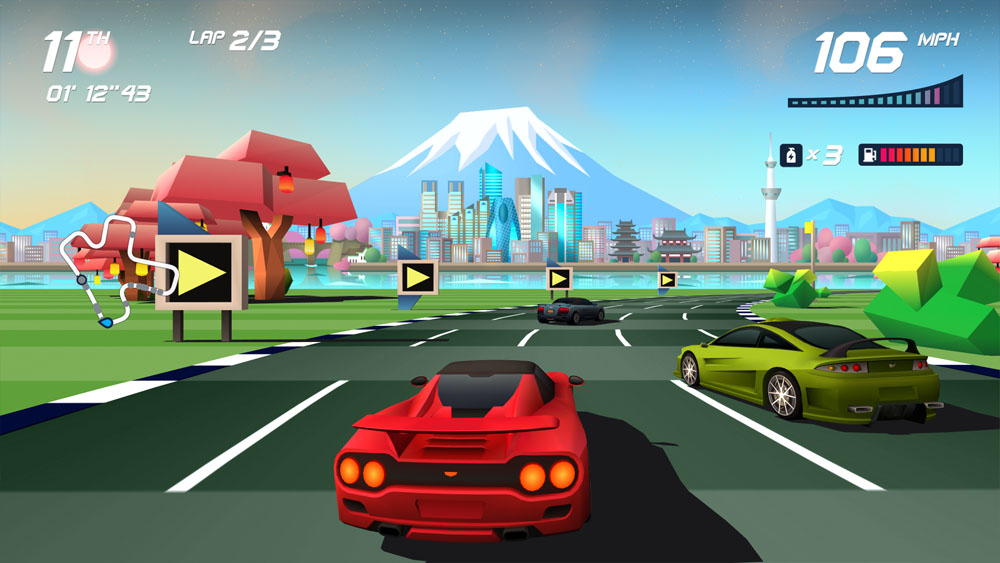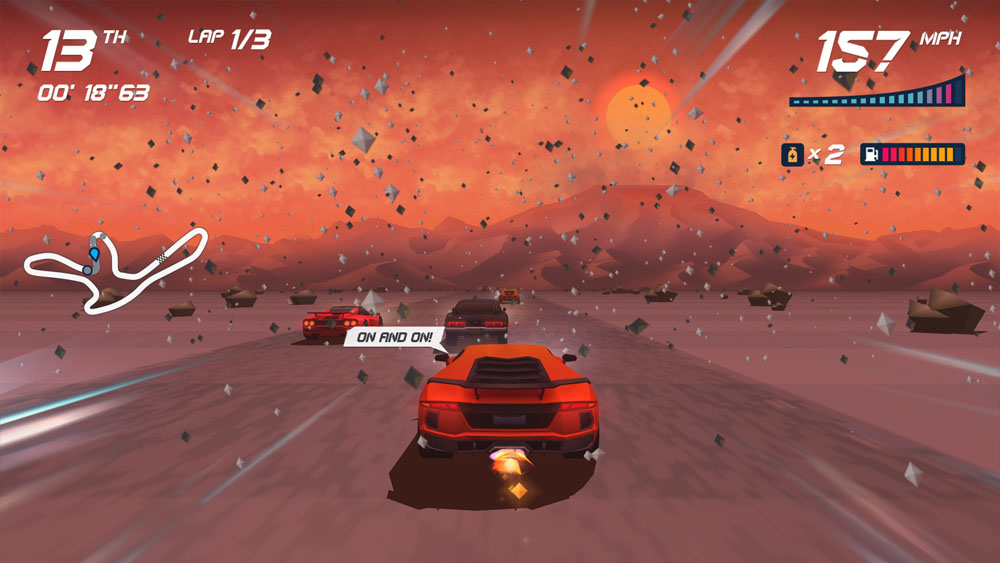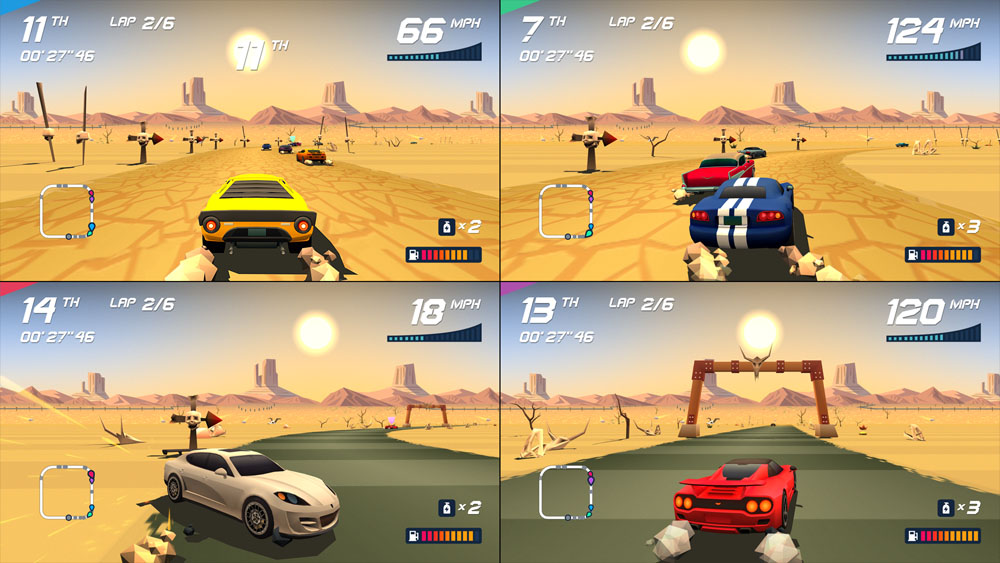 About SCRYsoft
SCRYsoft is a video game publisher based in South East Asia. The publisher has a great aim of enriching the gaming scene in South East Asia by supporting the local developers. SCRYsoft also hopes to cultivate the gaming culture by bringing more variety of games around the globe into the region.
About Aquiris
Aquiris is a company based in Porto Alegre, Brazil. With 12 years of history and a team of 70 people. The studio has been creating games for a broad range of platforms, from browser to PC, consoles and mobile.
The big focus since the very beginning has been on delivering the best artistic, technical and gameplay quality to the players, in partnership with powerful publishing partners. Aquiris is known by the critically acclaimed arcade racing Horizon Chase Turbo, the fast paced FPS Ballistic Overkill, and the F2P mobile Looney Tunes – World of Mayhem.