Riot Games has announced that Skye, a new initiator agent, is joining VALORANT roster as a part of Episode I ACT III content.
In addition to Skye, a new arena called ICE BOX will be available as well. In this location, there will be many ziplines for players to grab in and maneuver through stage, granting ability to attack from the higher places.
You can find more in-depth detail shared by Riot Games via press release here:
What's New in VALORANT Act III
All the Act III releases and why you're getting a new map early.
You're right, the VALORANT map rotation could use a refresh. That's why Act III opens cold, with a new map set in the arctic wilderness: Icebox
Moving Icebox up from Episode 2 does come with a trade-off: we'll be delaying the release of our newest Agent for two weeks (one patch cycle) after the start of Act III. Simply put, our last few patches haven't been the most stable, and we know more of you want Icebox. Delaying the release of a new Agent allows us to better handle any issues that might emerge when launching alongside Patch 1.10.
Not gonna lie, the Act III patch is a bit scary considering the high amount of content coming and potential instability. We want to be faster when it comes to resolving any issues or exploits. This delay gives our team some breathing room to make sure current Agents play nice with the new map (invisible Spy Cams, invincibility, teleporting in the wrong neighborhood, etc.) before introducing another variable.
ADJUSTED ACT III ROADMAP
We're still closing Episode 1 with a banger of a finish. On top of our newest map, you'll unlock 50-tiers of fresh Battlepass goods to personalize your play, have another go at your Rank with refined Competitive matchmaking, and try the latest Agent just one patch later.
MAP: Icebox (Oct. 13 Unrated, Oct. 27 Competitive)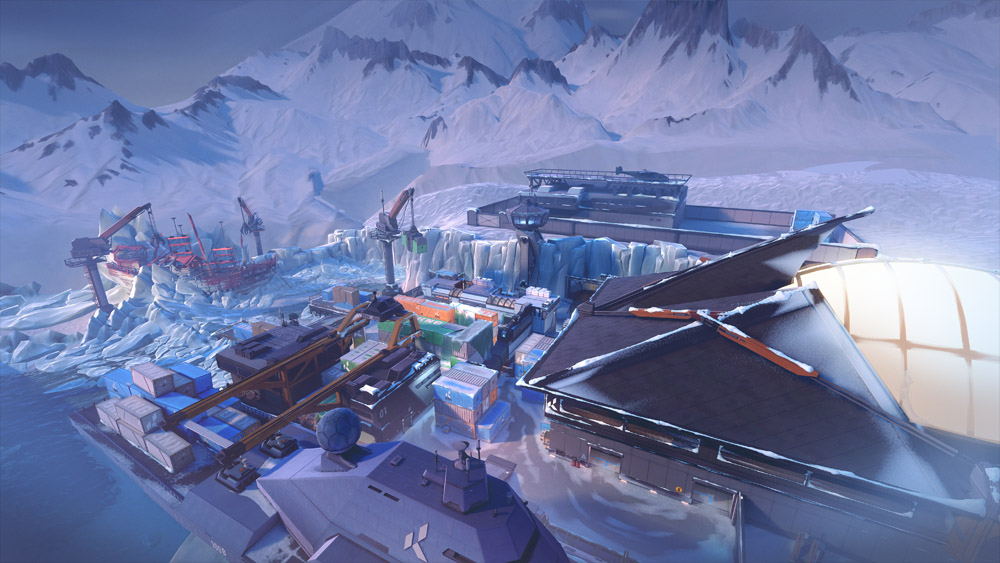 An abandoned Kingdom research facility in the arctic wilderness is the next location to flex your aim and abilities. Pierce the dense snow cover as an Attacker to plant the Spike. And, outplay as Defender using ziplines to reach new and dangerous heights.
The two objective sites on Icebox favor frequent skirmishes, sharp aim, and adaptive play.
COMPETITIVE REFRESH (Oct. 13)
These Act III Competitive changes hope to make your Rank climb tighter as we work on the long term health of organized team play:
Upgrade that Act Rank Badge with the next Competitive Act
Rank queue lowered from 6 tiers to 3 tiers, for tighter matchmaking
Select your preferred server and improve your ping
Immortal+ rank outcomes are decided 100% by wins and losses
ACT III BATTLEPASS (Oct. 13)
The Battlepass returns with improvements for Act III—revamped weekly mission progress for faster unlocks and additional Epilogue tiers.
Collect heads, rake in the XP, then snap on Act III exclusives like the "Chilly McFreeze" Gun Buddy to match your arctic battles, the "Radianite Hazard" Player Card, and the Viper Spray that reminds you to wash your hands.
Purchase the Act III Premium Battlepass to unlock more tiers of VALORANT items like the Ruin Vandal, "Disco Ball" Gun Buddy, and the Surge Bucky (with variants!).
WEAPON SKIN: SINGULARITY (Oct. 13)
Singularity exists in a far future, vast in its journey from the beyond. Powerful, abstract, and mysterious. None know where it came from or how it came to be.
Harness its unstable force on the Phantom, Sheriff, Spectre, Ares, and Melee when you buy the Singularity bundle.
GUN BUDDY: WELCOME, MIDDLE EAST AND NORTH AFRICA
More (low ping) challengers to the Radiant throne have arrived from the Middle East and North Africa.
Log in during October 28  to earn the Dallah Gun Buddy and celebrate their homecoming.
NEW AGENT: SKYE (Oct. 27)
This Agent protects and preserves many things—just not the life of her enemies.
Skye guides the fight and takes action against her foes using Earth's natural resources. The Australian activist and her band of beasts can amplify the health and strength of her team while tracking down all opposition.
Valorant is now available on PC. This game is a new competitive stage for you to shine from. A 5v5 character-based tactical shooter where creativity is your greatest weapon.
For more information, please stay tuned to ThisIsGame Asia.