Previously released in Japan, PiG Corp. has begun pre-registration for an English version of Toro and Friends: Onsen Town, a new puzzle-simulation game.
Prior to the official launch, players will be able to participate in pre-registration event as detailed below: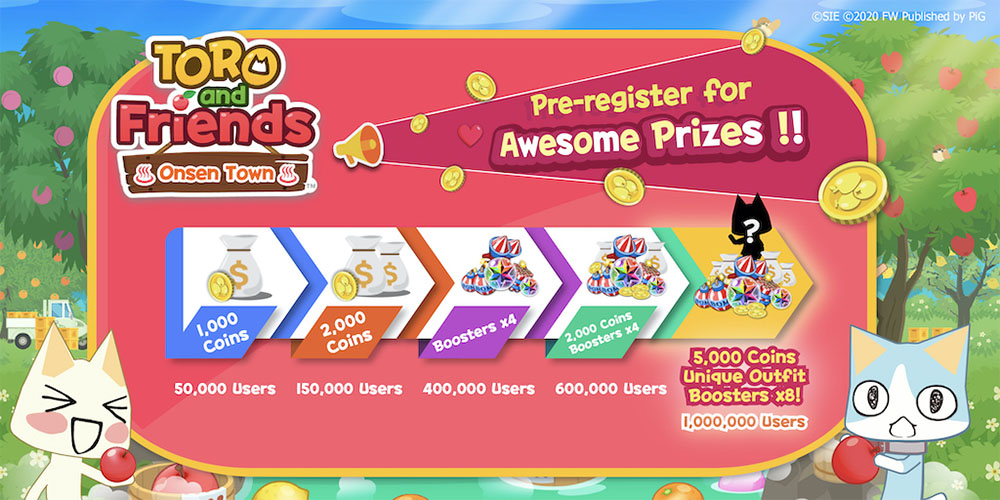 You may find the detail shared on App Store here:
Meet Toro and and all his friends in their first adventure in English in two decades!
◇ ◆ ◇ "Toro and Friends" ◇ ◆ ◇
● Pick-up and play match-3 puzzle game that's easy for all to understand!
>> Matching 3 or more of the same fruits not only allows you to pick fruit quicker and create awesome boosters!
>> Enjoy the refreshing bursts of colour and fruit!
● Immersive and funny story with cute characters!
>> Follow Toro on his quest to find the mythical Onsen that can turn him human!
>> Teach the Pokepi new words and have hilarious conversations!"
● Cute 4D characters! (Personality being the most important)
>> Decorate the village with the cute Pocket People or as we affectionately call them Pokepi!
>> There are a host of characters with larger than life personalities.
>> Did we mention how adorable they are? They even won an award for there cuteness…
● A heart-warming story of one cat's quest to become human and a town's tale of redemption~
One day, out of the blue, you receive an invitation for a tour of Amatsu-Sora. A peaceful town in the mountains famous for its beautiful vistas, onsens and fruit orchards.
You arrive on a tour bus to find streets are deserted, life is gone and the once bright town is now desolate and lonely… You see Toro at the broken town sign. He lets you know why he is also in Amatsu-Sora. "Hello friend, I heard rumours of a mystical onsen in the town that can turn me into a human. I came to find it but I don't think I can do it on my own. I need your help, mew~"
PRE-REGISTRATION