September 9, 2021 – Konami Digital Entertainment Limited today announced that eFootball PES 2021 Mobile has officially been downloaded more than 450 million times across iOS and Android platforms. This latest milestone will be commemorated with a special in-game campaign starting today exclusive to the mobile game. Additionally, KONAMI has identified the schedule for Iconic Moment players during this campaign period.
From September 9th – September 23rd, users who log in to the game can earn up to 200 Coins. During the period September 13th – September 27th, players will also have the chance to earn double the initial reward across two special events: Worldwide Clubs Challenge and Open Challenge.
Additionally, KONAMI has unveiled the Iconic Moments players that will be available for the campaign duration during these event periods starting September 9th through September 23rd.
*Iconic Moment players will be carried over to "Legendary", a new player category in eFootball™ 2022, which will be updated from eFootball PES 2021 Mobile this fall. Website carry over information is also updated, and players can check mobile carry over details here
DOWNLOAD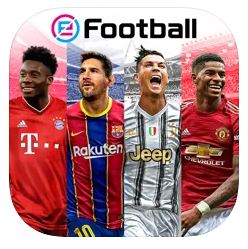 *Players who are transferred from Iconic Moments players as "Legendary" may have some differences in their team affiliation and other registration information.
For all the latest news from the eFootball™ franchise and for further information, please follow:
⦁ https://www.facebook.com/pes.asia/
⦁ https://weibo.com/konamiasia/home
⦁ https://www.youtube.com/user/KonamiAsia