CAPCOM has released the new trailer for Monster Hunter Rise during Monster Hunter Digital Event: March 2021.
Players can see that Zinogre and Nargacuga will make their returns along with the details of the new Rampage Quest.
Zinogre
The physical manifestation of lightning makes its shocking return! Sharp claws and strong limbs allow it to thrive in mountainous terrain. During hunts, it gathers numerous Thunderbugs to boost its power and enter a supercharged state.
Nargacuga
The master of speed and mobility is back to run circles around you! Covered in jet black fur, this cunning predator stalks its prey from the shadows and attacks with stunning agility. Its massive tail is as dexterous as it is deadly, and powerful enough to slay smaller monsters with one strike.
Fend off hordes of monsters in The Rampage
This is a new quest type where you have to protect Kamura Village from hordes of monsters. Use Hunting Installations and occasionally get up-close and personal to complete these quests!
Kamura Village was almost wiped out during The Rampage 50 years ago.
To prevent this from happening again, the villagers put all of their technological knowledge together to develop the Stronghold.
This is where you'll face the calamity, alongside your friends from the village. You'll have to make use of its solid defense and various Hunting Installations to protect your hometown from the monsters.
During these quests, you can use special Hunting Installations that were developed for the sole purpose of stopping the Rampage.
Make use of the prep time in-between monster hordes to place these devices all over the Stronghold.
There are three main types of installations. Make sure you use the right one for each situation and objective.
Manned Type: Ballistae, cannons, etc. Requires a mounted hunter to fire.
Auto Type: Activates automatically in certain cases. Examples include Defender Ballistae, which attack nearby monsters.
Limited Supply Type: Only a certain number of these can be set up, so you may call on Hinoa and Minoto for help, for instance.
The Monster Hunter Rise Demo Version2 Coming 12 Mar, upgraded with a new quest to slay Magnamalo!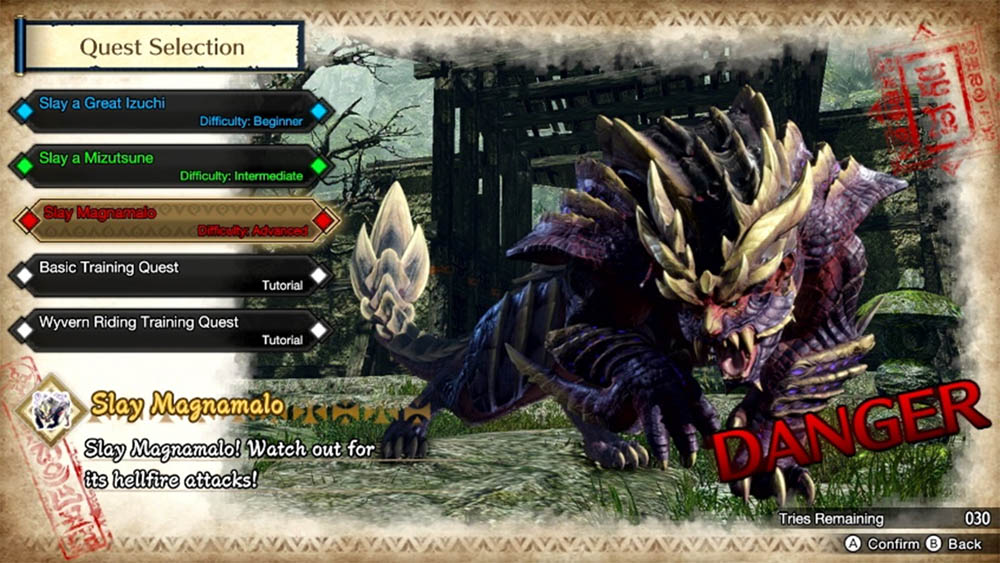 The demo that was released in January and contained basic training as well as a few hunts using all 14 weapon types, has been upgraded with a new quest to slay Magnamalo!
The new Magnamalo quest is an Advanced difficulty quest, tailor-made for the demo.
You'll have to fight it with fixed equipment, making it even tougher than normal, so only the confident need apply!
If you're playing the demo for the first time:
You can download the "Monster Hunter Rise Demo Version2" from the Nintendo eShop on Friday 12 March, 2021.
If you've already downloaded the "Monster Hunter Rise Demo" in January:
You can update to the "Monster Hunter Rise Demo Version2" by downloading the update data from the Nintendo eShop on Friday 12 March, 2021. Once the update is finished, your number of remaining quests will be reset to 30.
Info on Free Title Updates

Monster Hunter Rise will get a number of free title updates after release to make your hunting life even more exciting! The first update is scheduled for the end of April and introduces Chameleos, as well as several other new monsters. Get Ready for More Monsters!
First Free Title Update: End of April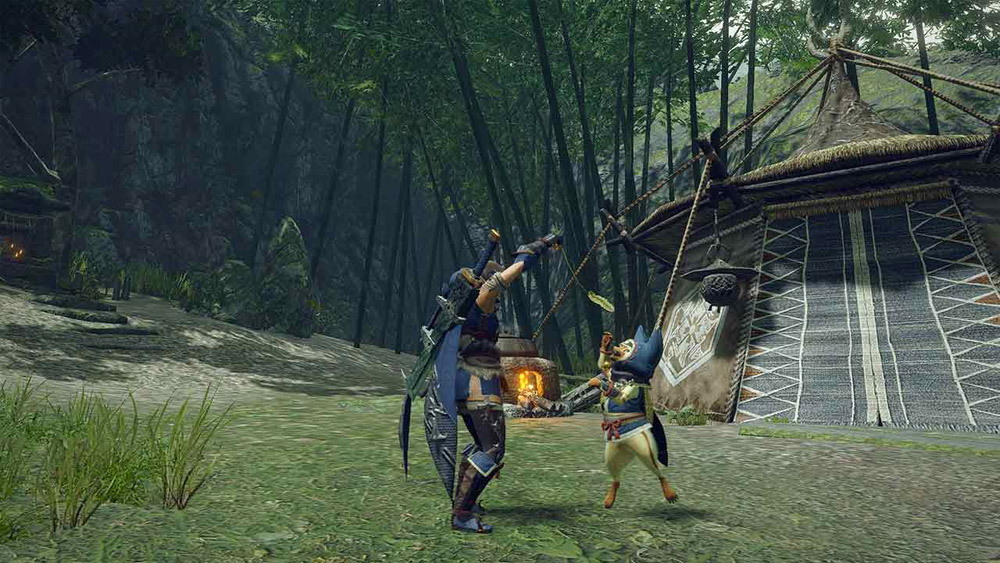 Monster Hunter Rise is coming to Nintendo Switch on March 26th, 2021.